Cord Blood Center adheres to strict European legislation and meets all the necessary criteria.
SWISSMEDIC
Cord Blood Center has been approved by SWISSMEDIC, the Swiss licensing authority for therapeutic products and efficacy and safety of therapeutic products.
World Marrow Donor Association (WMDA)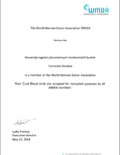 Acceptance of Slovak Placental Stem Cell Registry as a full member of the World Association of Bone Marrow Donors (WMDA) which coordinates the search for a suitable transplant for hematopoietic stem cell transplantation within its global database. WMDA brings together individual bone marrow registries and umbilical cord blood banks around the world, which register HLA markers of addressed bone marrow donors and umbilical cord blood units in the transplant database. A detailed list of member registries and banks and the number of umbilical cord blood units can be found here.
The National Marrow Donor Program
Acceptance of Slovak Placental Stem Cell Registry as a member of the US National Hematopoietic Cell Donor Program (NMDP) – Global Transplant Network. Members of this network must meet quality standards. Slovak Placental Stem Cell Registry follows the NetCord FACT standards. These standards are set by an international team of world-renowned umbilical cord blood storage experts and are a cornerstone of the FACT accreditation program for umbilical cord blood banks.
Medical articles and information
One of our goals is to regularly provide the expert public with the latest information in the field of the use of stem cells from umbilical cord blood for treatment and research. We would also like to provide the newest information from Slovakia directly related to the area of our cooperation.
Stem Cell Therapy (VIDEO) by Professor Colin McGuckin PhD.
Interview with the renowned British scientist Dr. Peter Hollands, PhD about stem cells (VIDEO).
Private Cord Blood Banking: Current Use and Clinical Future by Dr Peter Hollands, PhD & Professor Catherina McCauley.
Umbilical Cord Blood Stem Cells for Regenerative Medicine by Professor Colin McGuckin, PhD.
Family-directed umbilical cord blood banking by Eliane Gluckman, Annalisa Ruggeri, Vanderson Rocha, Etienne Baudoux, Michael Boo, Joanne Kurtzberg, Kathy Welte, Cristina Navarrete, and Suzanna M. van Walraven.
Hematopoietic reconstitution in a patient with Fanconi´s anemia by means of umbilical cord blood from an HLA-identical sibling by Eliane Gluckman, Hal E. Broxmeyer, Arleen D. Auerbach, Henry S. Friedman, Gordon W. Douglas, Agnes Devergie, Helene Esperou, Dominique Thierry, Gerard Socie, Pierre Lehn, Scott Cooper, Denis English, Joanne Kurtzberg, Judith Bard, and Edward A. Boyse.